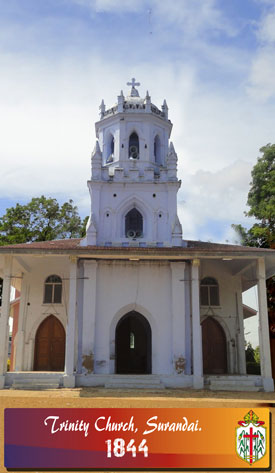 About the Pastorate
Bungalow Surandai Sabai was formed in 1844 and Barenbruck Primary School started in 1846. Pastorate Thanksgiving Festival, which is the time of fellowship for the all in pastorate, was started in 1896.
Medical Mission work started by the Missionary is continued. Barunbruck Memorial Hospital at Athisayapuram was renovated in 1990 and Barenbruck Mission Hospital at Bungalow Surandai was renovated in 1999.
Barunbruck Community College conducts courses leading to one year certificate courses in Nursing and in Computer Applications.
There are 14 congregations in the Pastorate:
Holy Trinity Church, Bungalow Surandai (1844)
St. Paul's Church, Keela Surandai (9.4.1926)
Parankuntapuram (26.12.1977)
Adaimithipankulam – 1968
Rajagopalaperi West (13.4.2000)
Rajagopalaperi East (1918)
Athisayapuram (2.9.1989)
Lakshmipuram (30.11.1984)
Kaluneerkulam North (30.5.1997)
Kaluneerkulam South (23.5.1993)
St. Andrew's Church, Maruthupuram (13.3.1972)
Transfiguration Church, Achankuntam (13.3.1972)
V. K. Pudur (31.12.1986)
Ramanur (21.12.1980)
Kamaraj Nagar (24.12.1993)
Thuravangadu
Other Important Festivals in the Pastorate
Thanksgiving Festival is organized at Bungalow Surandai in the last week of June and Asanam before Easter. Asanam is held at Keela Surandai in May and at Athisayapuram on 26 December.